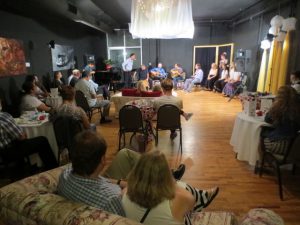 The Black Box is a 1,155 sq. foot simple, unadorned space with black walls and hardwood floors off the main gallery of the Emporium that may be rented for rehearsals, meetings, workshops, music performances, auditions, and more.
The total capacity is 49 (updated by City of Knoxville Fire Prevention Bureau, March 2017). There are a limited number of tables, chairs, and couches within the space. Other amenities include: one piano, curtains, and pipe and drape. Under no circumstances may the piano be moved.
The Black Box may be rented Monday-Sunday, 9:00 AM – 10:00 PM at $10/hour during the daytime and $30/hour on nights/weekends.
Please contact Suzanne Cada with the Arts & Culture Alliance for rental inquiries.